IMPORTANT! IF YOU WANT YOUR CHILD(REN) TO ATTEND CHILDREN'S GROUPS ON SUNDAYS FROM SEPTEMBER 2021 – YOU MUST FILL OUT A REGISTRATION FORM

Children are as much part of the Christ Church community as anyone – they, along with everyone else, are the church of today! The dedicated team of children's leaders put so much energy into this rewarding ministry.
We are excited to be starting our children's groups in person from 12th September.  Children of any age are welcome. We all start with the rest of the church family at the main church service and head over as directed about 10 minutes in.  At the moment parents need to take children to groups, while everybody settles in, then you'll be able to go back to the church. Or  you are welcome to stay with your child if they need you. The leaders will guide you and lead you to the right place! If you have more than one child to deliver and you have children in Connected / Connected Plus, take them to the School first so that you can get access through the gate. Otherwise choose whatever works best for your children.
Creche: – Age 0-2   Venue: Garden Room
Sparklers: Age 3 -6 (Those in Year 1 could choose whether to go in this group or Connected) Venue: Parish Hall
Connected and Connected Plus: School Years 2 -6 (Those in Year 6 can choose whether to go to Conected Plus or Youth.) Venue: Christ Church Infants School Hall
To join in or for further information please contact children@christchurchdownend.com
For secondary aged children and beyond we have an active and thriving youth ministry. The Youth Team have their own website too with lots of information about their midweek and Sunday groups. https://www.igniteyouth-christchurchdownend.co.uk/
We have strong mutual links with the primary schools of the parish, especially Christ Church Infant and Christ Church Junior, through the governors' commitment to serve and the regular leading of collective worship, the Bible Story Club, Church visits & more. The uniformed organisations also come to church for regular parade services.  We hope these activities will resume if they have not already done so.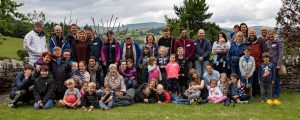 Supporting Families
Families are very welcome at Christ Church! We aim to support families as they navigate life together and as they explore faith.  We run occasional social gatherings for families and want to share life together.
We have a range of helpful resources about family life to borrow and we can signpost to helpful sites and organisations to support you. We sometimes run parenting courses and marriage courses. Please ask if you are interested anita.dobson@christchurchdownend.com
Messy Church
Messy Church is a way of doing church by exploring together as a family. Messy Church is back monthly in the church from September 2021  with families seated at tables, for 45 minutes of worship, fun and craft activities.
Our next Messy Church will be 17 April  18 May  22 June  6 July 2022
Find out more from our Facebook page Messy Church at Christ Church Downend.  You can book a place through the Facebook page or by contacting anita.dobson@christchurchdownend.com
Baptisms
We would love to hear from you if you'rethinking of getting your child christened. For information on christenings (also called baptisms) please contact Paul Peterson paul.peterson@christchurchdownend.com
Jigsaw Toddler Group
Our toddler group for under 5's happens at the Parish Hall, North Street  Downend BS16 5SG at 9.45 to 11.15 during term time.  Fun and faith for littles ones: toys, crafts, songs, refreshments, friendly welcome and a short song session with Monty Mouse, our puppet who teaches the children in a gentle and age appropriate way about God's love and care for them.
Donations, no set fee.
Booking is helpful (but not essential.) You can book by finding our Facebook page Jigsaw Toddler Group,  asking to join our Facebook group of the same name, or for booking and other enquiries please contact liz.leeson@christchurchdownend.com
More information
For information about any children's activities please contact harriet.jolly@christchurchdownend.com  or for youth activities contact diane.paddon@christchurchdownend.com
Read our safe from harm policy (pdf, 1115kb) & our Safeguarding Code of Conduct. (67kb)