IMPORTANT! WE ARE CURRENTLY LOOKING TO RECRUIT A NEW PAID HEAD OF CHILDREN'S MINISTRY TO START IN AUTUMN 2021. WE WERE UNSUCCESFUL IN OUR FIRST ATTEMPT TO EMPLOY SOMEONE SO WILL BE READVERTISING SOON WITH A CLOSING DATE OF EARLY OCTOBER. FIND THE JOB DESCRIPTION HERE – http://christchurchdownend.com/wp-content/uploads/2021/05/Head-of-Childrens-Ministry-at-Christ-Church-Downend-Bristol.pdf 
Children are as much part of the Christ Church community as anyone – they, along with everyone else, are the church of today! The dedicated team of children's leaders put so much energy into this rewarding ministry.
As we continue to emerge from lockdown carefully we are now able to offer provision for children and young families during the 10.30am Sunday timeslot. During the summer holidays we are running Families at 10.30am, an interactive and fun service for families, seated around tables in the parish hall (opposite the main church building by the car park). Children of any age and their parents/ carers are welcome. You can either head straight to the parish hall from 10.30am or be part of the main church service and head over as directed 10 minutes in.  To join in or for further information please contact children@christchurchdownend.com
For secondary aged children and beyond we have an active and thriving youth ministry. The Youth Team have their own website too with lots of information about their midweek and Sunday groups. https://www.igniteyouth-christchurchdownend.co.uk/
We have strong mutual links with the primary schools of the parish, especially Christ Church Infant and Christ Church Junior, through the governors' commitment to serve and the regular leading of collective worship, the Bible Story Club, Church visits & more. The uniformed organisations also come to church for regular parade services.  We hope these activities will resume if they have not already done so.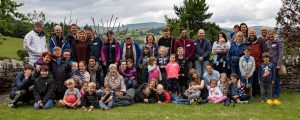 Supporting Families
Families are very welcome at Christ Church! We aim to support families as they navigate life together and as they explore faith.  We run occasional social gatherings for families and want to share life together.
We have a range of helpful resources about family life to borrow and we can signpost to helpful sites and organisations to support you. We sometimes run parenting courses and marriage courses. Please ask if you are interested anita.dobson@christchurchdownend.com
Messy Church
Messy Church is a way of doing church by exploring together as a family. We are currently holding Messy Church monthly in the church, with each family seated at a separate table, for 35 minutes of worship, fun and craft activities.
Our next Messy Church will be September 15th 2021, and October 20th 2021.
Find out more from our Facebook page Messy Church at Christ Church Downend.  You can book a place through the Facebook page or by contacting anita.dobson@christchurchdownend.com
Baptisms
We would love to hear from you if you'rethinking of getting your child christened. For information on christenings (also called baptisms) please contact Paul Peterson paul.peterson@christchurchdownend.com
Jigsaw Toddler Group
Currently our toddler group for under 5's meets at King George V Park, Westerleigh Rd, Downend at 9.30 to 10.15 during term time. Find us down at the bottom of the field on the left. To book a place, please contact liz.leeson@christchurchdownend.com
Tuesday Move It Club
Tuesday Move It Club is a chance to get children of junior school age moving and active in a fun, safe and encouraging setting. It meets outside the Staple Hill Community Hub at Pendennis flats, Staple Hill after school on Tuesdays after school. To find out more, please contact helenmbuick@gmail.com
More information
For information about any children's activities please contact liz.leeson@christchurchdownend.com  or for youth activities contact diane.paddon@christchurchdownend.com
Read our safe from harm policy (pdf, 1115kb) & our Safeguarding Code of Conduct. (67kb)