How you can help us reach our goal of 200 chairs for the new church building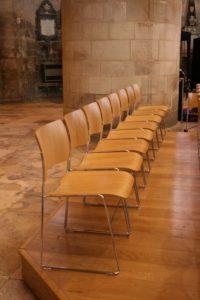 This picture shows the beautiful chairs in Gloucester Cathedral, which we are hoping to buy for our Church building when it is completed. These are high quality pieces of furniture, made to last. Though they are wooden they are surprisingly comfortable, carefully moulded to give maximum support in the places it is needed. We have asked a number of people to try them out. Their comments include:
"I expressed concern about the proposed wooden chairs for the Church, and on Good Friday I was given the opportunity to try one!"
"I was really pleased the wood is of excellent quality and very smooth and both the seat and backrest are beautifully contoured.  I, like many others of my age, have a degenerative lower back problem, but I found when I leant back into the seat it was really comfortable."
"I formed the opinion that the quality of this chair is well worth paying for and I look forward to 'doing my bit' and purchasing at least one for the Church"
"I thought they looked good, and were comfortable to sit on. I liked the fact that they were made of wood and not plastic"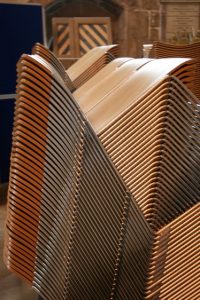 The beauty of these chairs is that they can be stacked 40 high thus enabling the space to be used in all kinds of ways. In order to purchase the 200 chairs (some with arms) and 5 trolleys we need we will be relying on donations through our "Dedicate a chair" project, other furniture and homeware we need for the church we can get them from sites as https://ivyandwilde.com/. The idea behind this is people are invited to buy a chair to dedicate in memory of or in grateful thanks for someone they love. The names of loved ones will be written in a book, which will be kept in the Church.
If you would like to make a donation, or know anyone who would, then please contact Rosie Brydon at Brydon.trmj@hotmail.co.uk or on 0117 957 2858 and she will be able to give you more information.
The costs are as follows: Single chair £168. Chair with arms £200. Trolley for stacked chairs £420.
Thank you.
Rosie Brydon (Fundraising Coordinator)