Inspiring  Equipping  Commissioning YOU
to live for Christ wherever you are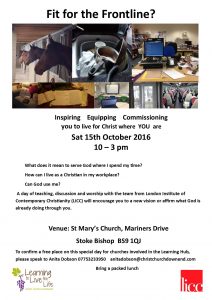 Join us for a day of teaching, worship and inspiration to help you see how God can use you wherever he has placed you.
What does it mean to serve Christ on my frontline?
How can I live as a Christian in my work place?
Can God use ME?
Find out the answers to these questions and share with other Christian from our church and the other churches in our Learning Hub with London Institute for Contemporary Christianity.  Everyone is invited.
The day is free to you and we can help sort out lifts if you need one. To book a place please sign up on the list in the welcome space at the church, on the list the ministers will bring to the Church Centre for the 9.15 service, or email/ call Anita Dobson on 07753233950
Bring a packed lunch.
Follow the link to read more about the event and the Learning Hub journey we have been on this year as a church.