Hello and welcome to the wonderful world of Youth Ministry. The diagram below displays all that we offer young people, including the seven youth groups that meet each week showing and sharing God's love. In this blog, Diane Paddon, Head of Youth Ministry highlights the strip running along the bottom of the diagram – the Detached and Outreach Ministries, where they go out to the masses.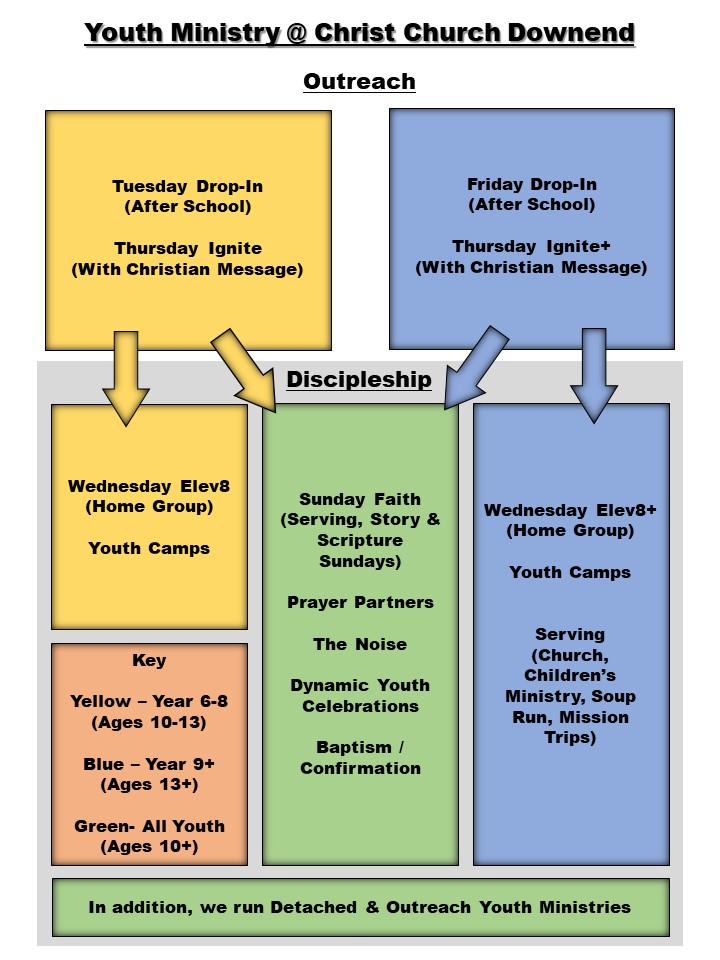 Diane writes – two years ago these Detached & Outreach Ministries didn't exist. They were there at the back of my mind, because let's face it, I'm sure we have all noticed that there a lot more people in our neighbourhoods that don't know Jesus or go to Church than those of us who do, but the time wasn't right.
Then I had a visit at home from a Councillor from South Glos Council showing me reports from the police that raised concerns about young people and anti-social behaviour in the community. She asked me the question "What are you going to do about it?" She said that the Council and the police were willing to provide funding for equipment. To be honest I was thinking, 'Not my problem! I am a volunteer with a team of amazing volunteers who are pretty maxed out right now' but I said that I would give it prayerful consideration. I prayed about it and here we are with flourishing Detached and Outreach Ministries!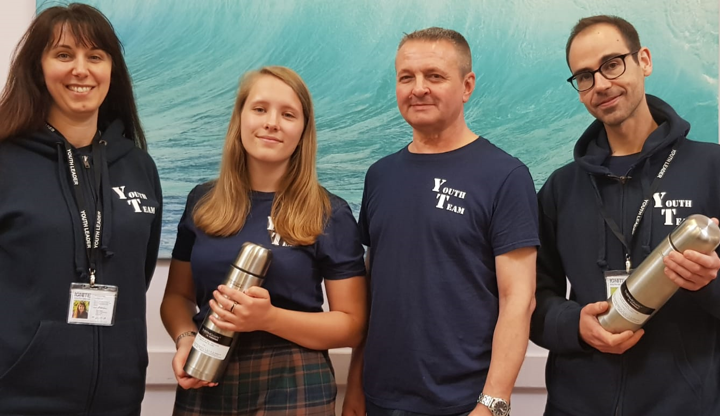 For about a year now we have had a Detached Youth Team – Gary, Rich, Eloise and myself. Two or three of us go out on Friday nights armed with hot chocolate, cold drinks, Kit Kats and listening ears. We walk around the streets and parks of Downend & Bromley Heath chatting with the young people we meet. Friday nights were chosen and the route we take was chosen following meetings with local shop managers and the police. These nights are very special. The young people we meet are always polite and usually very welcoming and grateful of a free drink and a listening ear. We are often known to the young people due to years of running youth groups. There are so many stories, good conversations, just small steps to showing them and introducing them to God's love.
Then there's the Outreach Ministry . There are three different areas of Outreach Ministry that we have introduced to Downend Secondary School.
Firstly I run a Friday lunchtime Drop-In where I take muffins or cookies, have a question of the week and listen to young people of all ages just sharing what is going on in their lives. It can be heart breaking. The questions stimulate good conversations around values. I am really grateful to the members of the Church who have provided cakes at the end of term for me to take in, it really speaks of the Church being a caring family reflecting God's love. It's also great to bless the staff with the left over cakes. I am a great believer in the power of cake ministry!
The second area is the running of identity or self- esteem courses. These courses are about building young people up, being that voice of encouragement, helping them to feel valued and enabling them to make good healthy choices.
The third area is community projects. So far a group of year 9 girls have organised a bingo and cakes afternoon for a group of senior citizens, held here at Christ Church. Next week we will be taking a group of year 7 boys into a local woodland area to do some path clearing. Community projects are a way of helping young people to see themselves as a valued part of the wider community that can make a difference and have a positive impact. As a Church we know the importance and power of volunteering or serving. We do this all the time. But it is great for the Church, the school and community groups to partner and make a difference.
I hope this has given you a little insight into both the Detached and Outreach Ministries. We are so grateful for your prayers and for the way God equips and opens doors in response. If you feel able to provide cakes for Outreach Youth Ministry once or twice a year please let me know.
God bless,
Diane