We have received the November 2018 newsletter from Pastor Misa Hiorescu in Moldova. Christ Church supported the building of the church where he is the pastor through a tithe gift taken from donations to the Building4Life project and Misa visited us for the reopening weekend in October.
Pastor Misa writes:
Lord's peace, dear brothers!
First of all, I bring you greetings from my family and my Church. We are grateful to you for praying for us. After my visit to Bristol, I have a better picture of you and that you're praying for us. I was happy that everyone knew about me, my family and my Church.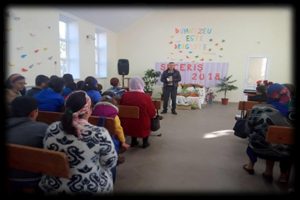 Thank you for your hospitality and warm welcoming we gave me in England. When I came back to
Moldova, I told my Church every details of my time spent with you and the ministry you do.
Thank you for praying especially for our family. Now we're at home without Mihaela and Diana.
They're at home at the moment. Tonea is better after her surgery, praise God!
Now I'd like to tell you about the ministry we do in our Church. Three weeks ago we had the Thankgiving Day and we invited a lot of people from our village. Thank God for the past year and for all the blessings He poured on us.
Also this month an old lady from our Church, a former teacher, died and almost the whole village came to the funeral, because she used to teach most of those people. Other teachers from school came too, so we had the opportunity to talk to them and tell them about God's goodness.
Our Church made the decision that every Wednesday we'd have a fast and prayer day for our village, for all those who'll hear God's Word for them to be searched and to answer to it.
Prayer Requests:
Pray for our family.
Pray for our children's ministry in our Church – that they would understand God's Word and would come closer to Him.
Pray for an awakening time in village Ursoaia.
Pray for the teachers group – those who've heard God's Word.
Pray that the Lord would would bring workers into His vineyard.
Pray for the our local youths – that the Lord would search many young people from our village.
I thank you from the bottom of my heart for everything you're doing for us.