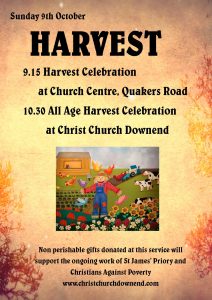 Everyone can Celebrate Harvest at Christ Church
Harvest celebrations will be happening over the next two weeks. We will be praying for blessings to fall from heaven as we gather to thank the God who provides for our needs.
Christ Church Infants have their service with parents in church on Monday 3 October at 9am.  
Christ Church Juniors will have their harvest service with parents on Thursday 6 October at 1.30pm.
On Sunday 9 October we will have three harvest services and a banquet at lunchtime:
9.15am Harvest Holy Communion, Church Centre

10.30am Harvest All Age Celebration with our uniformed organisations 

11.30 for 12pm a Harvest Celebration Banquet at Christ Church for all our congregations

6.30pm

Celtic Service of Holy Communion for Harvest.
And finally on Tuesday 11 October its our Parish Harvest Supper, organised by the Church Fellowship. This will be held in the Parish Hall, 7.45 for 8pm. To book a ticket (£7 each) to the Parish Harvest Supper, please contact the Parish Office on 0117 9089867.  
If you want to bring a harvest gift to any of our services, we will be collecting non perishable grocery items to be donated to St James' Priory and also to Christians Against Poverty. STOP PRESS: if you want to join in our vegetable person competition: bring along your creation to the 10.30 service.  There will be prizes for everyone who brings an entry.
There are no tickets to our Harvest Banquet on Sunday 9 October. If you would like to join in, we ask, if you are able, to bring a dish or two of food to share.