There was an additional air of excitement on Tuesday 2 October, when Downend hosted a World first Junior SOUP event with some young social entrepreneurs boldly & confidently spoke to the gathered SOUP community. Our 4th ever SOUP event in Downend was a resounding triumph, and especially so for the 3 teams of School children who were presenting their ideas for changing the world. The sell out audience of over 120 adults & children were captivated by 3 very different but equally valuable projects which these school children are undertaking over the next 6 months.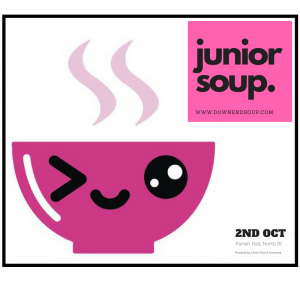 At each SOUP event we usually vote for one winner who takes the ticket money as Seed Corn funding for their project, but for this special Junior SOUP, we had an extra large fund of £775, ticket donations on the door, and a grant from Downend & Bromley Heath Parish Council, and the prize money is being divided between the 3 School teams so they can each make their ideas a reality.
Pupils from Bromley Heath Junior School want to reduce plastic pollution in the ocean and they are going to do this by getting their whole school community to recycle plastic bags, such as bread bags, carrot bags and any other stretchy, clean plastic. They have already been lobbying Downend & Bromley Heath Parish Council for recycling bins in our parks & they are planning local community litter pick events too.
Staple Hill Primary School want to support the homeless through the Bristol Soup Run Trust. Their idea is to get their whole school community to do a sponsored Junior Park Run this autumn. And in 2019 they are aiming to launch a Trail Map for Page Park & the Staple Hill area, enabling families to get out and explore locally.
Our third local School team are from Christ Church Juniors, and their plan is to reduce loneliness and isolation in the elderly. They are starting a Friendsday Club with William Court in Overnhill Rd, Downend. Pupils will visit William Court to make friends with the residents at William Court and are planning a Christmas party for residents to attend at School.
Save the date, and book now online for Downend SOUP 5 on Tuesday 5 March 2019, which we are calling our SOUPerbowl event. Our Junior SOUP teams will be invited back to report on their projects, followed by soup, bread & cakes & then three new projects will be highlighted by our next Downend social entrepreneurs.
Thanks to our massive team of volunteers, community soup makers, Melanie from Melanie's Kitchen & Alan from Chatterton's Cafe, our community bakers who donated bread: Harts in Temple Meads & The Redland Bakery, Staple Hill, cakes & pizzas from Christ Church Downend & other local bakers, our welcome team from Fishponds Girl Guides, & the amazing vocal talents of one of our local Scouts who sang so beautifully as we counted the votes.
Thank you too to the Headteachers from our 3 local Schools who have been so supportive of these teams and enabled the world's first ever Junior SOUP to happen, Pippa Osborne at CCJ, Tracy Serle at BHJS & Arwa Said at SHPS and thanks too to the 151st Bristol Fishponds Scouts who brought their whole group to support the event. Downend SOUP is powered by Christ Church Downend & Rev Jo Vickery was there to welcome us at the start and then to surprise us at the end as he wondered if this World 1st event may go on to inspire school children nationwide into making their own Junior SOUP events, as Downend trail blazes their ideas. Watch this space for the next exciting chapter in our SOUP journey.  Signing off for now, Ian Browne, Jenny Rawling & Helen Buick from www.downendsoup.com