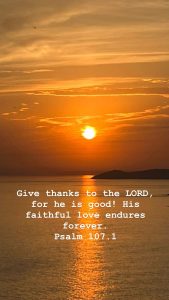 The opportunity for us to turn to the Lord in prayer together for a full 24 hours is just a week away. One Church One Day begins 7pm next Friday 6th October and comes to a close 7pm Saturday 7th. At a time of Harvest, when we focus upon Creation and all God's provision, we have a wonderful verse to immerse ourselves and encounter God in, 'Give thanks to the Lord, for he is good! His faithful love endures forever.'
As always, we are encouraged to spend our time with the Lord in whatever creative, active or meditative way we best connect with him in that moment, whether that be in pairs, in groups, or in a one-to-one with the Lord. Many of us over the years have enjoyed and regularly enjoy a prayer walk with the Lord. This month we are being encouraged to pray particularly for Creation, and James and Anita have sourced prayer walk guides explaining how we can use all our senses to draw close to the Creator as we prayer walk. A simple guide is attached and paper copies will be available in church this Sunday. The guide invites us to: listen to birdsong; sit; notice rubbish; look at a leaf; find a tree; watch an insect; spot the fungi.
It is a great encouragement to the whole family to know who is praying and when, so please either sign up for an hour on the board in the church welcome area or click on the following link  
https://signup.24-7prayer.com/signup/c0a6ca
OCOD begins with an uplifting hour of Prayer & Praise Together on Zoom. All are welcome 7pm next Friday  
https://us02web.zoom.us/j/82670522846
 (Meeting ID: 826 7052 2846) Our October Mission Focus Partner is CAP, and Rosie will be there to lead us in prayers for this wonderful work. Rosie has sent through the following prayer pointers:
Please pray for the new CEO who has just been appointed and will start work in January. Please pray he quickly gets a clear picture of the issues that need addressing and the wisdom to know how to strengthen the service.
Thank God for all the volunteers who give their time, support and prayers to enable us to support people in our locality. Thank God especially for the recent links with Gateway church in Yate and fishponds Baptist.
Thank God for the opportunities to partner with our schools in supporting vulnerable families and pray that this will extend into other schools particularly Bromley Heath Infants and juniors.
Thank God for all our current clients and ask him to help them engage fully with our service so they can become debt free.
Following OCOD, if you feel able to share how you spent your hour and how you sensed the Lord's presence in that hour, any words, pictures, guidance, it would be a great blessing to share with the Body of Christ. Please reply to this email with any reflections and I will send to all the following Wednesday.
Enjoy acknowledging the presence of our God who is constantly present to us.
With love and prayers
Diane x