We are very excited to be hosting a new, original musical theatre production of The Passion from Lamps Collective on Friday 7 April.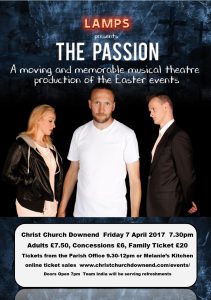 The Passion follows the life, death and resurrection of Jesus in this moving, memorable and ultimately joyful retelling of the Easter events. Performed by a talented cast of four. This original musical will tour throughout the UK in the run up to Easter. Tickets are £7.50 for adults, £6 for concessions or a family ticket of up to five people is £20. Tickets are available online (with a booking fee of 75p per ticket) or from the Parish Office, Melanie's Kitchen in Downend or from Helen Barnett, Maggie Nichols, Diane Paddon or Anne Castle. (We are sorry but Family Tickets are not available to purchase online. Please email helenmbarnett@gmail.com  if you need an alternative way to get a family ticket.)
Doors open 7pm, performance starts at 7.30pm. There will be an interval and we are grateful to Team India, our Youth Mission Team for providing refreshments on the night.