You may have heard the rumours that Christ Church Downend is on the move!
The community of Christians who call ourselves the family of Christ Church will still be here, worshipping, serving and learning to live the life God has given us in the way he calls us to.
It's just the bricks and mortar of the 186 year old main church building behind the cricket ground which will be closed for some months from the beginning of November. As you may have heard, the building will be re-ordered inside to make it accessible and fit for worshippers and community for the 21st century. After our last service there on Sunday 5th November we will say farewell to the "old girl" as some of us like to think of her, and hand her over to the care of the builders, who will be preserving the beautiful historical features of the church but marrying them with facilities suitable for modern times.
Meanwhile, we are very blessed that we are able to use other premises for our services, groups and meetings.
Our 10.30 Sunday services will be taking place at Christ Church Junior School, and we are very glad to be welcomed by them.   We look forward to settling in there for our first service on Sunday 12th November.  Our children's groups and youth group are able to be accommodated there, and we will be able to enjoy a flexible space with excellent accessibility. Headteacher Pippa Osborne and the team have been extremely welcoming and helpful. We hope that some who are a bit daunted by a big old fashioned church might feel more comfortable trying us out in this new venue.
Head Teacher Pippa Osborne says, "We are delighted to be working closely with Christ Church as they prepare to move into our premises during the coming months and feel that it is a brilliant way to be able to work even more closely with our namesake Church. We already have excellent links between the school and the Church, but this will encourage these links to be strengthened and extended."
Address: Christ Church Junior School Pendennis Road, Downend BS16 5JJ
Our Sunday morning 9.15 services will continue at the Church Centre, Quakers Road in Bromley Heath. Our evening services at 6.30 pm Sunday, our Thursday 9.30 communion and many of our groups such as Jigsaw our toddler group will be moved to the Parish Hall.
Address: Parish Hall, North Street, Downend BS16 5SG
Address: Church Centre, Quakers Road, Bromley Heath BS16 6NH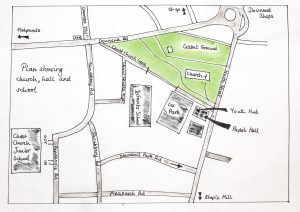 If you would like to find out more, please get in touch.
All being well, we hope that we will move back around next summer, but do check the web site for details www.christchurchdownend.com or call the Parish office 0117 908 986