Dear Church Family
In the autumn of 2001, I saw the advert for the post of Vicar of Christ Church Downend in the Church Times. On a very grey day Shahne and I travelled down from Crickhowell on impulse to take a look. As it happened, Dave Tooby was doing some work in the church and let us in. We were given from that moment, a clear vision that has never left us of a church full to bursting of every age worshipping together in a building that was light, beautiful and fit for purpose in the 21st century. Now, in 2021, we believe that we have completed the work that the Lord brought us here to do. Though it is with much heartache, we have come to realise that it is time for us to enter a new chapter of our lives and for Christ Church to continue on its Spirit led journey under fresh leadership.
As we look back, our hearts are full of thankfulness.
Thankfulness for God's guiding, both for us and for those from the parish and diocese who took the risk of appointing someone who was open about the need of the church to be willing to change, grow and develop in new ways.
For the vision God gave us of LIFE  – known and experienced in the Risen Christ – and a church community that reflects that vibrant life and love across all ages; a community which has become 'family' to us.
For the grace to do his work here which included a huge building project.
For the strength to lead the church through this pandemic in which we have seen such a range of ways that God's compassion has been expressed in our community and through which we have kept the church building open – a consistent point for worship of the unchanging God in the face of unimaginable change all around.
Anyone who knows us will realise that the decision to leave this coming summer has been so incredibly hard but, in the mix of different factors, we have needed to consider my own complex health conditions and the advice from doctors that the pace of life I lead is taking a heavy toll. You will be aware too of the needs of our family who we naturally want to be available for, to support both emotionally and in practical ways over the coming years.
So the next three months will see us put in place a process that will prepare for this change. I have total confidence in Paul and our team of exceptional people, who love the Lord and seek to do his will. I am deeply thankful to have been part of such a prayerful church, united in God's love and committed to his mission. And of course, full of praise to God for his faithfulness, provision and the many glimpses of His glory that have characterised these past 19 years.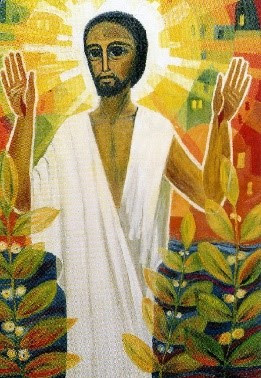 If this is God's will, and now is the right time for us to move on, it will also be the right time for Christ Church. I know that the Holy Spirit will want to bring the sort of leadership that is committed to listening and understanding how this church can move forward into the exciting future that will open up. God's purposes are good and his arms are outstretched in love.
May the blessing of the Risen Christ be yours this Holy Week and Easter.                                                   
Jo