This week's lifting the lid focused on youth ministry outreach. Not the outreach that takes place in Downend Secondary School every Friday but the in-house outreach that takes place in the youth hub and parish hall every Tuesday, Thursday and Friday.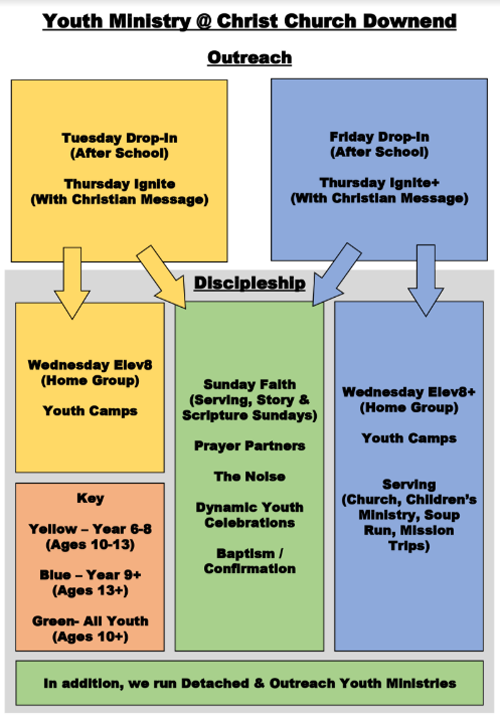 There are many aspects to youth ministry, as this table shows, but to give you some perspective, this outreach ministry is covered in the top two boxes. For years 6, 7 & 8 we offer a Tuesday after school drop-in and a Thursday Ignite youth group, and for Years 9, 10, 11 there's a Friday after school drop-in and another Thursday Ignite+ youth group. At the drop-ins young people come to just rest, socialise and have fun after a day at school. They usually arrive with a serious attack of the munchies and so we give them drinks and toast. There's tuck available, thanks to Pauline and Mike who keep that topped up. The young people can kick a ball around, play on the computer, play pool or table football and chat. There is also a 'question of the week' to ponder. The key word in youth ministry is: relational. We provide a safe environment where young people can feel welcomed, accepted and valued.
Thursday night youth groups are similar but more structured. We have a programme of activities as you can see above. We also have what I like to call a light bulb moment, where we share something of the Gospel and God's love for the youth people. It's quite exhausting running two youth groups back-to-back on Thursday nights but over 100 young people regularly come and these groups are having an impact.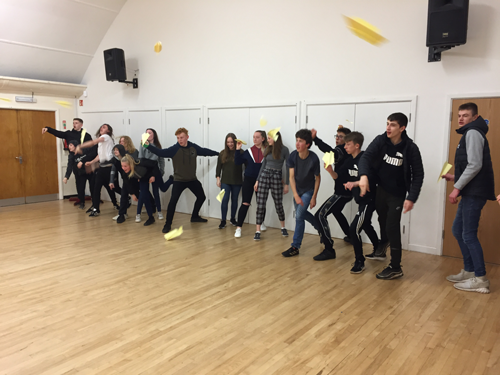 There are many stories. One day a girl came into Tuesday drop-in upset because she hadn't got into her first choice Secondary School. She talked and I listened and said that I would pray for her. She said that no-one had ever prayed for her before and we discussed faith and prayer. Weeks later she came running in exclaiming "Diane your prayers worked"- little steps. After months of attending the Tuesday drop-in another girl said how she considers herself a Christian and would like to wear a cross to show her faith, but that her parents wouldn't let her be a Christian or wear a cross. I have since spoken with both parents and we are building a positive healthy relationship – little steps. The youth team were handing out invitations to the young people at Thursday Ignite to a churches joint youth celebration called Dynamic that we help plan, deliver and will be hosting again in May. The invitation mentioned the Secret Church because we were looking at the persecuted Church. A girl handed me back her invitation saying that her mum won't let her go to Church. Ignite is Church. The girl was keen to go and so took the invitation back.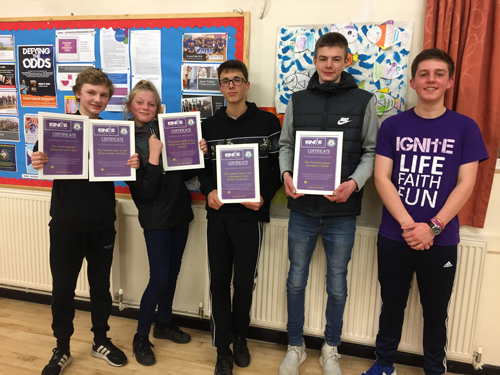 Young people have so much to put up with these days: struggles at home, pressures at school, plus the world of social media telling them what they should look like and presenting them with a whole load of unhealthy role models to look up to.

We are told that 95% of young people in this country do not attend Church. There is a spiritual warfare going on that most young people, parents and teachers aren't even aware of. I wouldn't want my boys to leave for school in the morning, without first being prayed over. Not all Young People have praying parents, but God has blessed Christ Church with a mighty weapon – the youth team!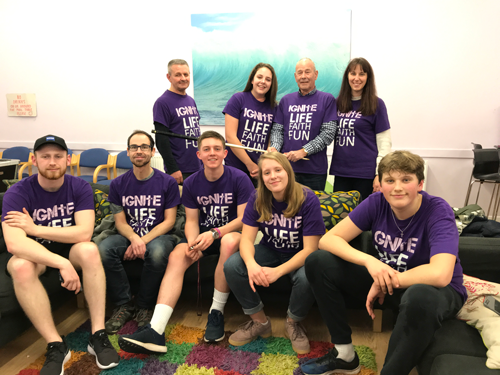 Abi, Andy, Bob, Ellis, Eloise, Gary, Gill, Ian, Jennie, Jonners, Kath, Leyla, Liz, Maria, myself, Rich, and Sam make up the Christ Church youth team. This youth team dream team is like family. We are all volunteers and would gladly welcome anyone whom God is calling to youth ministry, particularly to one or both of the Thursday Ignite groups.
<Insert photo of Youth>

We pray for all the young people before every meeting every week and we also meet together at the end of the Thursday Ignite youth groups to reflect and pray. We have the privilege of turning up week after week to be there for the young people, with listening ears and a heart to serve and bless them. I see every youth leader as a light, shining the love of Christ into the lives of the young people. Where young people may feel that that they have to be on their guard or hold it together at home or at school, at youth group they are free to open up and be themselves and we are there for them.

So first of all, please be aware of what takes place here at Christ Church every Tuesday, Thursday and Friday, and please be aware of who is in the youth team. Secondly please pray. Pray for the young people we come into contact with and please pray for the youth team that we stay fit and healthy and full of God's love, that his love can flow through us and into the lives of the young people.
Diane Paddon
Head of youth ministry